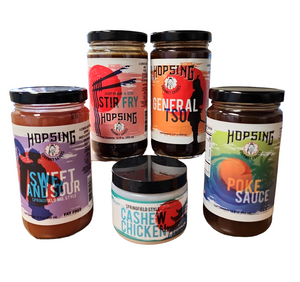 Who doesn't love a variety pack to get an introduction to a new line of sauces. We included five of our top selling sauces for you to find your favorite.
Includes our BRAND NEW Poke sauce, Sweet & Sour, General TSO's, Stir-Fry, And of course CASHEW CHICKEN SAUCE . Since 1991, using all of our knowledge gained from the years in the restaurant trade, we have been researching, developing and testing new and bold flavor combinations to complement our original sauces. The result is a distinctive line of very contemporary sauces with Asian influences for marinating, dipping, grilling and tossing with meats, vegetables, seafood, and pasta.
Today, consumers lead very busy active lifestyles and are not able to devote hours in the kitchen, but still would like to experience the joy of preparing and offering a tasty, nutritious home-prepared meal. Our sauces can help you meet this goal in a matter of minutes, offering you the opportunity to enjoy more precious time with family and friends.